The VIIth Iberian Cosmology Meeting will be held at the Faculty of Sciences of the University of Lisbon (FCUL) located at the University Campus at Cidade Universitária.
Link to Google maps: http://maps.google.com/maps?f=q&source=s_q&hl=en&geocode=&q=lisboa,+portugal&sll=38.769075,-9.225769&sspn=0.19032,0.445976&ie=UTF8&hq=&hnear=Lisbon,+Portugal&ll=38.756292,-9.15674&spn=0.002953,0.006968&z=16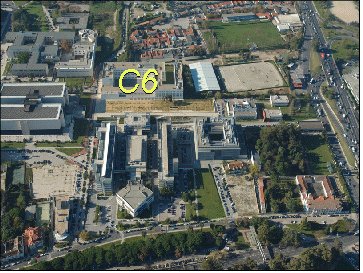 Faculty of Sciences overview.
The meeting wil be held at the building C6 at the southwest side of the complex (shown in the picture).
Metro: Nearby subway stations are Cidade Universitária (yellow line) and Campo Grande (yellow and green lines).
Taxis will get you from the Airport to FCUL in 5 minutes.
The public Bus, lines 83 or 745, also connect the Airport to FCUL (alight at the stop Campo Grande) in 10 minutes.
Apart from air and road, Lisbon can be reached by an overnight train from Madrid.