The VIIth Iberian Cosmology Meeting will be held at the Faculty of Sciences of the University of Lisbon (FCUL) located at the Campus of the University of Lisbon at Campo Grande.
Travel
Apart from road, Lisbon is most conveniently reached by airplane, but there is also an overnight train from Madrid.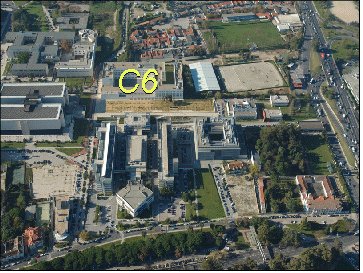 Faculty of Sciences overview.
Venue
The meeting wil be held at the building C6 at the southwest side of the complex (shown in the picture).
Metro: Nearby subway stations are Cidade Universitária (yellow line) and Campo Grande (yellow and green lines).
Taxis will get you from the Airport to FCUL in 5-10 minutes.
Accomodation
(Roughly ordered by decreasing price)
Hotels
(Mid-range prices within walking distance of FCUL)
****
Av Marechal Craveiro Lopes 390 1749-009 Lisboa
Tel: +351 21 004 5000
Fax:
Email:
****
Rua Soeiro Poeira Gomes, Parcela 2, 1600-198 Lisboa
Tel: +351 21 798 25 01
Fax: +351 21 795 08 64
Email:
Budget Hotels
Budget Hotels directory : http://www.lisbon30.com/30/hotels/
***
Rua Ivone Silva, 18, Lisboa
Tel: +351 217 814 100
Fax: +351 217 814 101
Email: hotelzurique@viphotels.com
***
Av. de Roma, 33, 1749-704 Lisboa
Tel: +351 21 793 22 44
Fax: +351 21 793 29 81
Email: info@hotelroma.pt
***
Av. da Liberdade, 189 1250-141 Lisboa
Tel: +351 21 352 26 18
Fax: +351 21 352 66 78
Email: hotelveneza@viphotels.com
Guesthouses (Residenciais)
(mostly old-fashioned accomodation)
Guesthouse directory :http://www.lisbon30.com/30/bed-breakfast/
Guesthouse directory 2: http://www.pai.pt/residenciais/lisboa/
Av. 5 de Outubro, 55, 1050-048 Lisboa
Tel: +351 21 352 48 84
Fax: +351 21 352 65 37
Email: info@imperador.com.pt
Praça Francisco Sá Carneiro 4, 1000-159 Lisboa
Tel: +351 21 849 31 50
Fax: +351 21 840 63 21
Email: info@residencialardoareeiro.com
Alameda D. Afonso Henriques 70, 6º - E, 1000-124 Lisboa
Tel: +351 21 840 48 96
Fax: +351 21 840 90 03
Email:
URL:
Hostels
(Dorms or individual rooms, mostly in trendy renovated buildings in the old city)
Hostels directory : http://www.lisbon30.com/30/hostels/
Rossio Train Station, Second Floor, Lisboa
Tel: +351 21 346 64 57
Fax:
Email:contact@rossiopatio.com
Rua Andrade Corvo, 46 1050-009 Lisboa
Tel: +351 21 353 26 96
Fax: +351 21 723 21 01
Email: lisboa@movijovem.pt